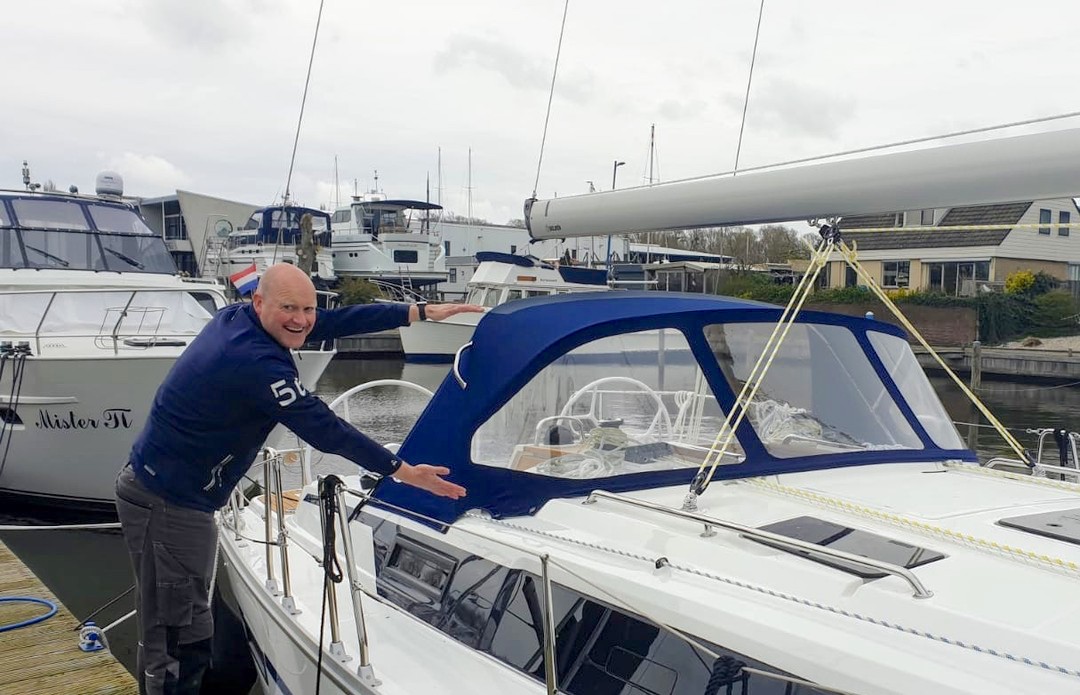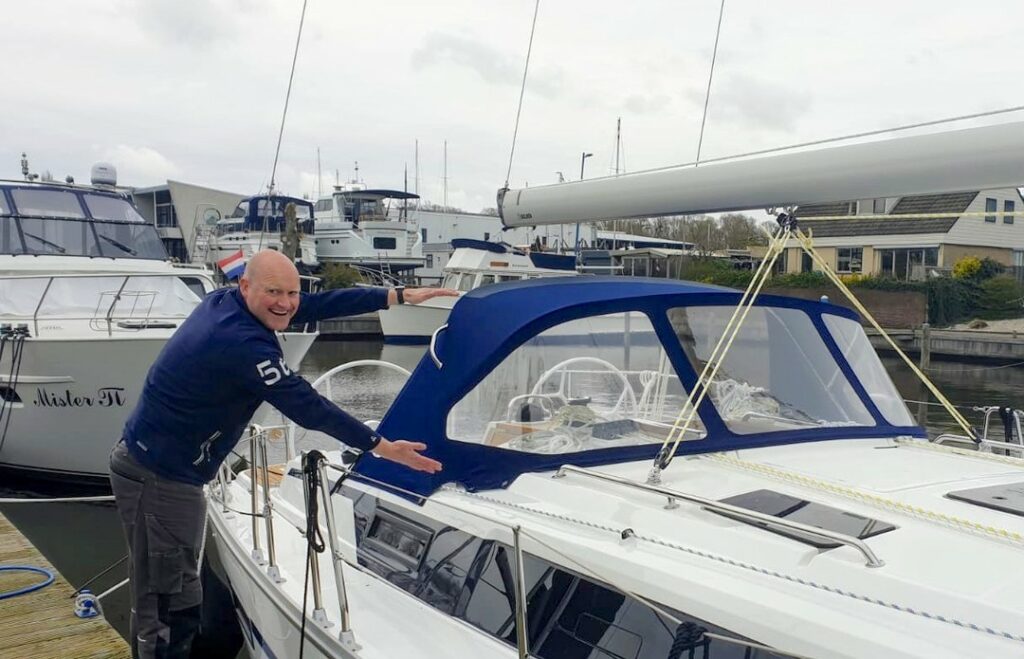 Why a fireman and pastry chef work as a sail and canvas maker at Zeilmakerij De Vries Maritiem
Sailmaker De Vries Maritime is very busy! So busy, that there is room for 2 new sail and canvas makers in the team. We already have 1 new colleague, and we are looking for a 2nd topper. What does the job of a sail and canvas maker look like? For whom is this a dream job, and who would be better off looking for something else? We interviewed Michel Bult and Rinke Akkerman about all the ins and outs of this great job.
If you have any questions about what it's like to do this work, or if you know or are someone for whom this is a dream job: contact us soon!
Introducing: firefighter and pastry chef
We speak to Michel and Rinke when they have just returned from visiting a sailboat. It is Friday afternoon, just a few hours before the weekend begins. A quick introduction: who are we dealing with? Michel and Rinke both live in Friesland with their family. Besides their work as sail and canvas makers, they have special qualities: Michel is active in the fire department in his spare time. Rinke started his career as a pastry chef, but made a career switch by working at Zeilmakerij De Vries Maritiem. Rinke got married this year, unfortunately with a small party by all measures, but he is determined to have another big party.
What do you do as a sail and canvas maker? Puzzling, technical insight, constantly improving
"Our work has two parts, just like our job title. You make both sails and canvas. Canvas means: all types of boat tents such as biminis, tube covers and convertibles. We mainly deal with canvas making and are outside a lot for this. When you make sails, you're a little more inside, and you're more concerned with the actual sewing of the sails."
Initially, the customer has contact with the office of the sailmaker. There the customer's wishes are discussed and this results in a quotation. After that Michel and Rinke go to work. Sometimes a customer has very specific wishes and would like to discuss these with the sailmakers themselves; this is always possible. Rinke and Michel also regularly call the customer for additional clarification or explanation. "We'd rather call the customer twice too much, than once too little. It just has to be right."
Michel explains, "We have a lot of contact with the customer, and you can use your creativity in this profession. You are busy thinking up solutions for seemingly impossible tasks. Making the customer happy, that is the goal. Sometimes that's puzzling, but it's usually not too bad."
Canvas construction starts with the frame. Rinke and Michel look at the shape of the tent, the construction and line of the boat. What looks good, what can and cannot be done. They cross that with the wishes of the customer, and so the final design emerges. "Sometimes the customer's initial wishes are impossible, then we explain what is possible. Often the customer is pleasantly surprised with the new possibility and we hear "hey yes, it can be done this way too!". Then we have solved the puzzle," says Rinke.
"You're always thinking how can it be even better. How can it be tighter, easier and more beautiful. We are constantly working on improvements."
What if you're not a sail and canvas maker yet?
There is no training for sail and canvas makers, so you may wonder: how do you become one? Rinke: "I trained as a pastry chef. And then I saw the vacancy for an apprentice sail and canvas maker. I immediately thought: that's something for me! You learn the profession on the shop floor, from your colleagues and supervisors. It's a very special process, and it can be difficult at times. You are confronted with a lot. I loved it from day 1 and couldn't wait to go out on my own. Yes, you do fall flat on your face a few times, but that really helps you learn. You get more and more freedom, and you keep learning. We regularly spar over difficult designs and that's how we keep each other on our toes."
What I like best about this job: freedom, a lot of outdoors, variety and being creative
"You have a lot of freedom and you are often outside. I had that in my military work too, and I like that. It's great to be on the road," says Michel. Rinke is very happy with the room for creativity: "As a pastry chef I could use my creativity in the combination of flavors. Now I do that with different materials! For me, it really is a golden move."
What does that mean specifically; lots of freedom? "Our management is very open to new ideas. There is a lot of time and attention for learning new skills, for example dealing with a new device such as Prodim that allows us to work more digitally. We invent and develop everything ourselves, because there is no school or training for this profession. If something we came up with works well, that's very cool!", says Rinke.
"Every day we are working on something different, there is no day the same. The happy customers, sometimes expressed in emails. That's what we do it for!", Michel answers the question why he likes this job so much.
Of course, there are downsides too: sometimes a lot of pressure or a seemingly impossible job
Every job has downsides. What do Michel and Rinke like less about their jobs? "When something goes wrong," says Rinke, "when we encounter things we don't know how to solve. Something very difficult, or too much pressure, that's not nice. You just want to get it done on time, and if it's not going well, then it's really not going well for a while." How does he deal with that? "Just count to 10 and consult a lot, there is always a solution."
Michel tells about his moments of regret: "When something doesn't turn out the way you want it to. It is and always will be handiwork and different types of material you work with. That makes it a craft, and sometimes something doesn't quite go to plan."
The most special thing of last year: a boat tent of 8 by 4 meters!
We regularly receive special requests, which makes the work even more varied than usual. This year, a tour boat sailed into the private harbor at Zeilmakerij De Vries Maritiem. "The owners live on board and rent out part of the boat. They really wanted a covered outdoor area for their guests where they could serve breakfast. The dimensions are a bit different than usual! It became a mega-tent of 8 by 4 meters. There were many special requests, such as making the roof and sides removable. That was quite a challenge and very instructive. The customer thought along with us and is very satisfied with the final result. They invited us for a small party on board after completion!"
Cold-hearted people and water sports haters: this job may not be your dream job
A job should fit you, that is very important for your job satisfaction. For whom is a job as sail and canvas maker unsuitable? "You have to have some interest in water sports," says Michel, "I got into water sports through this profession, so that's possible too."
"Every once in a while you have to push a little bit. You're sometimes assembling something on a ship in the rain and cold, sometimes you have to scrape the ice off the boat. We were lucky with the weather this year. But even the summer can be too hot sometimes!", says Rinke.
And speaking a little German, that comes in handy too. But that's not a requirement. "You learn it very quickly," says Rinke, "and many Germans also speak some Dutch."
Finally: why become a sail and canvas maker at Zeilmakerij De Vries Maritiem?
"The team is very close, and not too big. Everyone just likes to work together. Of course everyone has their own tasks, we know well from each other who can do what. We laugh a lot, even in a year like this. That is very important," says Michel. Rinke agrees.
Did you get excited about a job as a sail and canvas maker after reading this interview? Or do you know someone for whom this is a dream job? Please contact us soon!