For almost 200 years traditional quality as sailmaker
In this age of fast-paced, hip startups, is there still time for an old company founded in 1830? We think so, and fortunately our customers think so too. The water sports industry is a field par excellence where craftsmanship is held in high esteem. We would like to introduce to you Sailmakerij De Vries Maritiem, established in Lemmer for almost 200 years.
What we do
Both water sports and the sail making craft are in our DNA. We are engaged in the production and repair of sails for boats. In our long history we have also expanded our range to include canvas (tents) for all kinds of vessels.
An overview of our offerings:
make new sails
sail repair
boat tents and canvas making
tent repair
cleaning tarpaulins and tents
sale of used sails
masts, lines, rigging
roller reefing systems
sundeck
Using the menu at the top of the website, you can quickly find what you are looking for. Would you rather have direct contact? Then we are easily accessible by phone:
+31 514562015.
Rich history
Our sailmaker was founded by a world sailor! Marten Pietersz De Vries settled in Lemmer in 1823, after years of sailing as a sailmaker on board a windjammer around the world. With so much experience he was able to provide the Frisian market with good advice and high quality sails.
Curious about how our company developed after this? Read more about our history.
Our Team
Sailmaker De Vries Maritime is located at Vuurtorenweg 1 in Lemmer, where we have our own marina next to our premises. Our connection with the water is everywhere!
Did you know that there is no official training to become a sailmaker? It is a real craft that we teach our people ourselves in our sail making shop. Curious how our employees experience their work as sailmakers? Read all about it in this blog.
Working at
We are always looking for new talent, and have some great job openings. Check them out here, and give us a call for more information or to get acquainted over a cup of coffee.
Read more about our history, the sailmakers and our vacancies.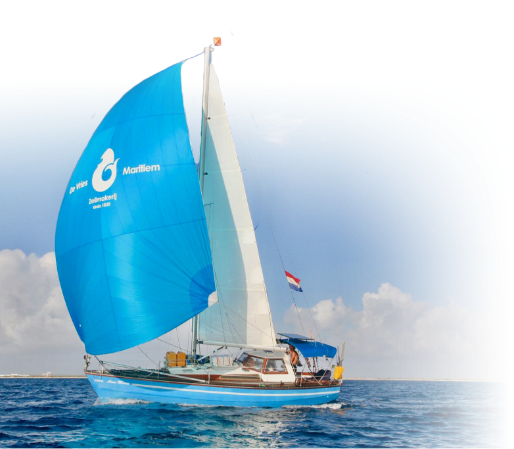 Almost 200 years experience
Own port in Lemmer
Our people sail themselves: recreational and competition